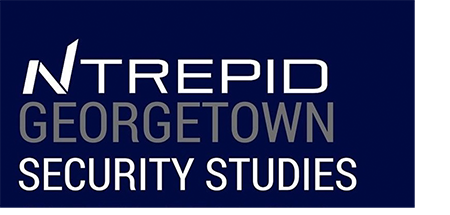 It's not often that you get to help shape the hearts and minds of the next generation of cybersecurity innovators, but that's exactly what we strive to do at Ntrepid. Last month I had the pleasure of participating in the First Annual SSP-Ntrepid Cyber Symposium, a joint venture with the Georgetown University Security Studies Program (SSP). The event featured the inaugural class of SSP Ntrepid Fellows and their research, and was attended by representatives from the national security and cybersecurity communities; which included prominent members of government, the private sector, think tanks, academia and SSP alumni currently working in these fields.
Through our partnership with Georgetown University, we seek to develop and strengthen the community of student-scholars interested in cybersecurity and subsequently aspire to position SSP students to be at the forefront of cybersecurity policy research. Participants in the fellowship complete a semester-long research project on salient topics related to cyber research. To support their research, students have access to some of Ntrepid's unique cybersecurity and analytical solutions. This fellowship poses a unique opportunity for student fellows to contribute to the quality of cybersecurity research, to engage in community building and mentorship, and to build presentation and briefing skills in addition to possible opportunities for publishing their research.
Last month's inaugural Cyber Symposium touched on several critical topics, from the evolution of cyber insurance as it relates to cybersecurity policies, to the use of crypto-currencies by violent non-state actors. In addition, I took part in a lively panel discussion addressing the various emerging trends in cyber and national security. Being one of the few companies closely tied to academia and that supports the consumer market as well as the business-to-business and federal industries, gives us a unique perspective on the evolution of cybersecurity and the significance of certain trends or market indicators. For instance:
We have seen a major shift in privacy from the consumer to the vendor. The expectation of what is private is changing rapidly, and that is being driven by the convenience and access to personal information. Consumers expect to be able to access things quickly and remotely, that means the responsibility of security has fallen square on the shoulders of vendors. Security can no longer be an afterthought, and needs to be prominent part of the discussion.

The sad reality is that 97% of Fortune 500 companies have had data breaches, and the remaining 3% just haven't realized it yet. Despite this, security remains a cost center for most, not a strategic business pillar. Until that paradigm shifts, we are going to continue to see major breaches. For those smart enough to see the writing on the wall, the focus needs to go beyond simple acts of compliance, policy and insurance.

The federal market deals with cybersecurity from both a defensive and offensive perspective. The challenge of staying one step ahead of adversaries is the fact that there are so many doctrines and authoritative hurdles that make keeping pace with technological advances extremely difficult. Commercial entities need to continue to partner and work with federal agencies to ensure industry leading innovation is not lost on federal agencies.
The above points drive home why it is so important that industry make a concerted effort to help bolster the cybersecurity community by fostering relationships with academia. By doing so, we can help ensure we are getting education and best practices in the right hands to keep American businesses and government agencies at the forefront of cybersecurity innovation. As an organization, Ntrepid is proud to pledge our continued sponsorship and participation with Georgetown University and SSP and have even hired several graduates from the program. For more information on the Ntrepid Cyber Fellowship, Georgetown University's SSP or the recent Cyber Symposium, please visit: https://css.georgetown.edu/.