The task of protecting corporate networks is becoming increasingly difficult, and the 2017 cybersecurity reality is looking bleak. Attackers are more motivated than ever, and operate steps ahead of security professionals. Adversaries are able to do this because today's security technologies focus on detecting anything bad or malicious, a practice which has notoriously limited success.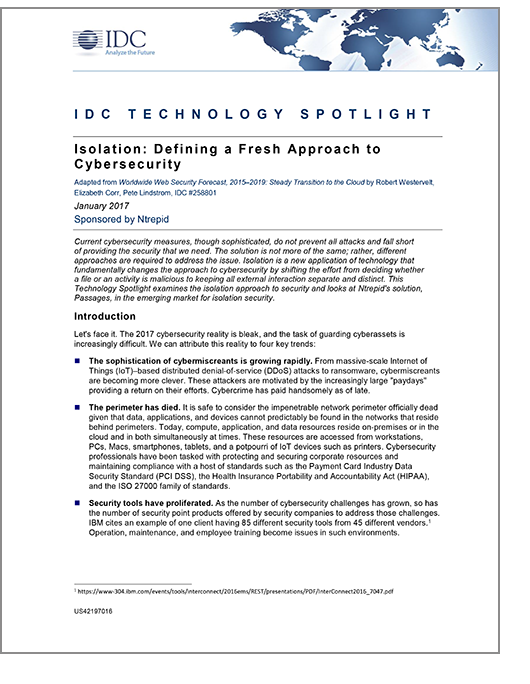 In response to the industry's repeat offenses of trusting unreliable detection solutions, the International Data Corporation (IDC) released a report that identifies isolation technology as a fresh approach to security, and defines its benefits. The report, Isolation: Defining a Fresh Approach to Cybersecurity, also examines our solution, Passages, as part of the emerging market for isolation security.
The benefit of isolation security is in its ability to contain any potentially malicious activity in a secure environment, without having to spend time determining whether it is a risk to security. Rather, actions are run in a virtualized machine and have no interaction with endpoint devices like PCs or smartphones, thus isolating the cyberenvironment from the network entirely.
At Ntrepid, we know it is not possible to detect and avoid all malware encountered while using the Internet. This is why our mantra is to 'expect the worst and protect first.' Passages, our secure virtual browser, is an isolation platform that protects users from existing threats and threats yet to be discovered by establishing a web browser in a virtual environment to prevent any interaction between malware and the endpoint.
Passages is completely isolated from the rest of the system to eliminate any malicious links or downloads from infecting the network, and is designed to manage high-risk endpoints and reduce the risk of attacks that evade other solutions that rely only on detection techniques.
The hardened browser places downloaded files in cloud-based file storage with integrated analysis to further protect the host device from malicious payloads within the isolation environment. In addition, all user and device identifying attributes are removed from the browser so that the originating source cannot be known. Passages also offers administrative and reporting tools that integrate with account management, deployment, and analytics platforms.
The web browser is an essential part of day-to-day operations for most organizations today; which also makes it a huge target for attackers. Users are especially vulnerable when using the Internet, so Passages takes measures to ensure that even if attacked, all risks are contained and the data and assets of an organization are not put at risk. Learn more about Passages.