It has been an amazing year for Ntrepid. We're ending 2015 on the highest note ever with Passages being rolled out to enterprise clients before its official unveiling. Check out our press release, and stay tuned for even bigger news to kickoff 2016!
Ntrepid Announces General Availability of Passages Enterprise
Secure virtual browser provides complete protection from web-based attacks, isolating all browsing activity from the user's computer and enterprise network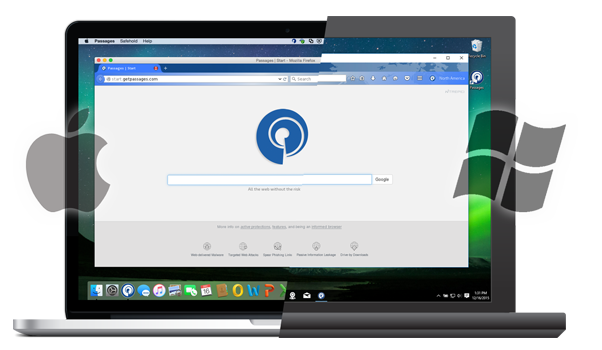 HERNDON, VA – December 15, 2015 – Ntrepid Corporation, a provider of cutting-edge cybersecurity solutions, today announced the general availability of Passages Enterprise (Passages), a secure virtual browser that allows users to navigate and browse the Internet without fear of picking up malware. Given its unique approach to secure web browsing, Passages also significantly reduces the ability of adversaries to conduct targeted social engineering attacks — all while providing the complete functionality that users expect from a traditional web browser.
The technologies and components in Passages are proven and mature, having evolved from the hardened Internet platforms Ntrepid developed over the last 15 years for the national security community. Now available for commercial use, Passages represents a fundamentally new approach to protecting against the malware and targeted attacks that fill today's web-based world. Instead of promoting what and where users cannot do/go on the web, Passages isolates the browser in a secure virtual machine, allowing business users to safely surf online without the risk of infecting their machines or compromising valuable enterprise data. Interest and adoption is growing and Passages is being deployed by fortune 500 companies and enterprises with more than 30,000 employees and has already achieved over $2.4M in bookings prior to its official release.
"As today's enterprises continue to rely on and embrace the cyber way of business, it is inevitable that users are going to visit malicious websites, or click on bad links, often without even knowing," explained Richard Helms, Founder and Chief Executive at Ntrepid. "With over 90% of undetected attacks coming through the web and highly targeted attacks becoming the new favorite technique of sophisticated hackers, users are more susceptible to attacks than ever before. The beauty and simplicity of Passages is that users can access any website and follow any link without risk to themselves or their company's infrastructure and data."
Using Passages as the default method for Internet use, if/when a user clicks a bad link or is targeted with a web attack, they will be protected. Passages isolates the web session from the actual computer, allowing the user to virtually surf online without the risk of infecting their actual computer or mobile device — severing the link that would allow for the compromising of their data. The Passages user interface is based off of Mozilla Firefox, creating a seamless transition to secure browsing for users with a near-zero learning curve. And Passages' Safehold prevents all drive-by downloads and other malware from reaching the user's computer during a browsing session by restricting all downloads to a secure cloud server, where they are scanned and determined malware-free before permission is granted to transfer to the desktop.
Passages is powered by a patented Identity Control technology, giving users the ability to prevent identification and targeting, as well as change their apparent location — websites and attackers cannot identify users via their browser, making targeted attacks impossible. All network traffic is separated from the browser, protecting an enterprise's identity. This also prevents an attacker from moving away from the browser to the local machine and ultimately other devices on the local network.
With Passages, enterprises can also monitor their users' activity to be aware of potentially malicious intent. Passages' oversight tool, Insight, captures a company's entire web activity directly from the browser, even for secure or dynamic sites — protecting enterprises from employees mistakenly, or intentionally, downloading malicious files. This comprehensive analytics and managerial suite provides full audits of all user activity to provide total visibility, and ensure companies meet HIPAA, PCI DSS, and NIST compliance standards for security and monitoring.
Passages can be deployed on 64-bit Windows and Macintosh OS endpoints with hardware virtualization support. For more information on the benefits and uses of Passages Enterprise, please visit: www.GetPassages.com.
About Passages
Passages provides a secure virtual browser that protects the enterprise from all web-based attacks, including web-delivered malware, watering hole attacks, spear phishing, passive information leakage, and drive-by downloads. Passages isolates all browsing activity from the local computer and network, allowing users to access any website and follow any link without risk to the company's infrastructure or data. Additionally, Passages hides user identity and corporate affiliation, significantly reducing the ability of adversaries to conduct targeted social engineering attacks.
Leveraging Ntrepid Corporation's platform and 15-year history of protecting the national security community from the world's most sophisticated opponents, Passages allows organizations to implement security at the speed of business. From corporate identity management to secure browsing, Ntrepid products empower enterprise online research and data collection, eliminating threats to an online workforce. More information can be found at: www.NtrepidCorp.com.