After 9/11, Teddy Lindsey decided to leave the private sector to join the FBI as a Computer Scientist, where he was trained as an investigator and deployed in the field. During his career in the Bureau, Teddy worked on a wide range of cases and operations including computer intrusions, drug trafficking, international intelligence, and counterterrorism operations. He distinguished himself and was recognized with a number of commendations, including the FBI Director's Award for Excellence and the DEA Administrator's Award. His last investigation to go to trial before he left the FBI resulted in a conviction on all counts and the longest sentence in U.S. history for a hacking (18 USC § 1030) case.
During Teddy's tenure with the FBI, he became increasingly frustrated with the cumbersome and antiquated case management and presentation protocols he was forced to navigate to do his job. Like many attorneys, he frequently found himself swamped with trivial, low-tech tasks that took valuable time away from case analysis. In addition, there were no tools available that organized and presented his data in the storyline fashion best suited to litigation. He knew there had to be a better way.
Two years after leaving the Bureau, Teddy set out to create that better way. As VP of Research and Development at Ntrepid Corporation, he had the engineers and resources to create the solution he had envisioned. Thus, Timestream was born.
Timestream is an intuitive software suite that integrates case management, timeline, and presentation tools, allowing litigators to organize and visualize case events chronologically. It is packed with powerful features that help to simplify a litigator's workflow.
Timestream features:
• Drag-and-drop interface
• Fully indexed fields and attachments for easy keyword searches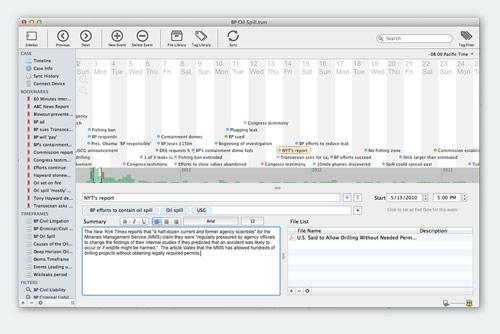 • Customized tagging for easy filtering
• Portability — all of your documents stored conveniently right in your case file
• Beautiful HTML5 presentations (no knowledge of HTML5 necessary)
• Detailed reports
• Compatibility with both Mac and PC
• AES case encryption
• Cloud or network collaboration
• Digital fingerprinting to verify authenticity of files and chain of custody
Since Timestream's launch in the legal market, civil and criminal litigators alike in law firms of all sizes have adopted Teddy's vision of crafting more compelling stories. This explains why Timestream is currently ranked among the hottest legal products of the year by TL NewsWire subscribers. Learn more about Timestream's unique features.
Download the free Timestream reader and sample cases now to see it in action.